Seasonal Guided Walking Tours & Historic Site Tours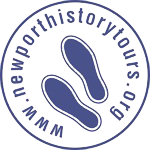 For regularly scheduled tours click here. The Tour of the Month schedule may also be found here.
Stroll through exquisitely preserved living neighborhoods and visit one of our landmark historic sites. Feel transported back to the heyday of this thriving colonial metropolis. Hear stories of revolution and ruin, struggles for religious liberty, and remarkable entrepreneurship among Newport's diverse people.
The Newport Historical Society is your source for authentic Newport history. Join our expert guides as we open wide the doors of history and invite you to explore Newport's central place in American history.
All tours depart from the Museum & Shop at Brick Market, located at 127 Thames Street.
Private Tours for Groups
Available all year-round
Privately scheduled walking and property tours can be scheduled with our Director of Education. Minimum fees apply. Tours subject to time of year and guide availability. Call for more information or to schedule one of the following tours. 401-846-0813
A sample of tours offered include:
Discover Colonial Newport Inside & Out Walking Tour
Discover the remarkable story of early Newport on this stroll through Newport's Historic Hill, including a visit inside one colonial landmark.
Lantern Tour of Colonial Newport
Feel transported through time on a lantern-lit tour of the exquisitely preserved neighborhoods of Newport's Historic Hill.
Road to Independence
Riots and rebellion, enemies and allies! Learn about Newport in the years surrounding the American Revolution.
Rogues and Scoundrels
See where scoundrels lived, where pirates profited and where criminals were put on trial and punished. Find out why this colony was known as "Rogue's Island."
Specialists' History Walking Tours
Tours on specialized subjects such as African-American heritage, colonial craftsmanship, religious diversity, women's history, or holiday themes are available.
History Detective Tour for Families or Youth Groups
Students in grades 3-7, families or other teams can discover Newport's colonial history, its religious and racial diversity, its role in the American Revolution, and its remarkable architecture on an interactive guided tour. Participants work in pairs to complete a worksheet, recording their observations in words and drawings.
Details and Other Information
Tour Capacity: Although some tours have limited capacity, we can accommodate large groups by combining two or more programs in succession.
Flexible Tour Departures: Walking tour departure options include the Gateway Visitors' Center, hotels in Newport's Historic Hill, the Museum of Newport History, or the Newport Colony House.
Parking & Restrooms: Complimentary bus parking and public restrooms are available at the Gateway Visitors' Center at 23 America's Cup Avenue; for directions and more information, see www.gonewport.com.
Accessibility: Some sites have limited access for wheelchairs & strollers. Call for information.
Payment: Prices subject to change. A nonrefundable deposit (typically $75) is due at least 14 days before the tour date; balance is due upon arrival. Payment may be made by check, cash, money order, Visa, or MasterCard.
Escort Admissions: Admission is complimentary for one group leader & one driver with each tour group.
Late Arrivals: Tour guides will accommodate late arriving groups whenever possible, but tours may have to be shortened or cancelled in some instances.
For more information or to book a tour contact:
Ingrid Peters, Director of Education
Newport Historical Society
(401) 846-0813 x 102
ipeters@newporthistorical.org